Mother's Day is right around the corner, and if you're like most people, you're probably struggling to come up with the perfect gift for your dear sweet mom. Sure, you could get her some flowers or a box of chocolates, but let's be real here – she deserves something a little more special. That's why I'm here to tell you that you should book your mom a vacation for Mother's Day. Not convinced? Let me give you a few reasons why.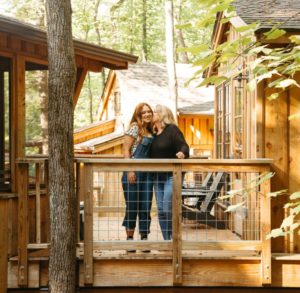 Why Give a Vacation for your Mother's Day Gift?
First and foremost, your mom deserves a break. I mean, have you seen the way she's been running around lately? Between work, taking care of the family, and trying to keep some semblance of a social life, she's been going nonstop. Why not give her the chance to kick back and relax in the Smoky Mountains? Just imagine her lounging in a chair with a warm cup of coffee in her hand, the babbling of the nearby creek in the background. Ah, now that's the life. 
But wait, there's more! Not only will your mom get some much-needed R&R on her vacation, but she'll also get to explore a new destination: Treehouse Grove! Treehouse Grove is a uniquely designed treehouse resort built by "Treehouse Master" Pete Nelson. Featuring hot tubs, mountain views, and a fantastic location, your mom is sure to love this retreat. And who knows – maybe she'll come back with some amazing stories to tell (and some souvenirs for you)!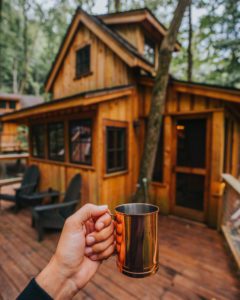 Plus, booking your mom a vacation for Mother's Day will earn you some serious brownie points. I mean, let's be honest – you probably haven't been the easiest child to raise over the years. However, by giving your mom the gift of travel, you're showing her that you appreciate all that she's done for you. And hey, if you're lucky, she might even invite you along on the trip! 
Stay at Treehouse Grove
Giving the gift of a Treehouse Grove getaway is the best vacation you can splurge on! Your mom will love reconnecting with nature, escaping the hustle and bustle of life, and exploring Gatlinburg. With some much to do (or not to do if that's more her speed), you're mom will love Treehouse Grove.
So, there you have it, folks. Book your mom a vacation for Mother's Day. It's the gift that keeps on giving! She gets to relax, explore a new destination, and you get to earn some major brownie points. Plus, let's face it – you' know she's been dying to disconnect and relax for a while. What better place to do that than Treehouse Grove? Happy Mother's Day to all the moms out there!